Tuesday, June 27th, 2006
Zac recently wondered if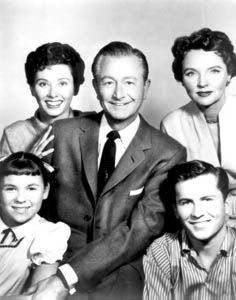 there was much difference between the way kids behaved in the 50s and the way kids behave today. And while that's still up for debate, a new study says modern dads are pretty much the same as the dads of the 50s:
Two US researchers from the Universities of Florida International and Miami, Finley and Schwartz, have "redone" Parsons and Bales' famous 1950s study on fatherhood (Volume 7, No.1, 42-55 of Psychology of Men and Masculinity, 2006).

The outcome of the revisit is surprising in that it is surprisingly similar to the outcome 50 years ago. Examining the "characterisation of the fathering role", Parsons and Bales found this centred on so-called "instrumental" functions. That is, fathering was more about providing income, protection and discipline, than it was about "expressive" functions. These, the more emotional aspects of care-giving, were found to be largely motherly functions.
The article goes on to point out that while dads these days aren't doing more than their pops and grandaddies before them, the moms of today are sharing the "instrumental" functions while continuing to be the primary "expressive" caregiver.
This begs the question, are those of us who think we're renaissance fathers with our daddyblogs and Baby Bjorns really just blowing smoke up each other's asses while perpetuating the traditional parenting paradigms? Or, is it possible that the study is flawed, and this latest crop of dads is truly as evolved as we pretend to be? After all, guys who've only become dads in the past five years are a drop in the bucket of the total number of fathers in the world. Could we simply not yet be a large enough sampling to make an impact on a study conducted today?
Are we the future or are we woefully stuck in the past? Discuss.
- Matt