When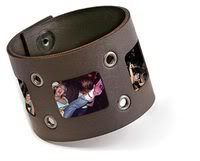 someone emails you about a product from a company called Smoy, you listen. It's just fun to say. Smoy, Smoy, Smoy. Anyway, a nice fellow from Smoy recently sent us one of these nifty PhotoCuffs for review.
The Smoy PhotoCuff is undeniably innovative. What you see is what you get. It's a sturdy and stylish faux-leather (or Vegan-friendly, as they say) wristband with slots for tiny pictures. It's simple, but it's pretty much unlike anything I've ever seen.
To be honest, I couldn't bring myself to wear it, but I really can't see myself ever wearing any kind of wristband or bracelet. They're a little on the pricey side too–the Brooklyn model, which I was sent, will set you back about 30 clams with shipping. That said, I'd be pretty surprised if these things didn't catch on. In a sense, it's like a wearable equivalent to your MySpace top-8. And it does look cool. Hipsters of all ages and parental-statuses will likely be sporting PhotoCuffs before long, so while they're not my particular cup of tea, they'll make well-received gifts this Christmakwanzannukah.
- Matt